Still using the calculator to estimate the processing time of a piece?
It happened to be wrong for a quote and you end up at a loss?
We have a simple and economical solution for you !!!
 SmartEstimate
SmartEstimate allows you to create estimate of machining processes via graphic selection of the areas to be machined, minimizing the time of budgeting and eliminating possible errors which you may make by carrying out manual calculation.
The operations are very simple. Here is what you have to do:
load the image of the workpiece
define the scale of the piece and the machining parameters
select the type of operation to be performed
through the classic geometric shapes select the area to be machined
check the total machining time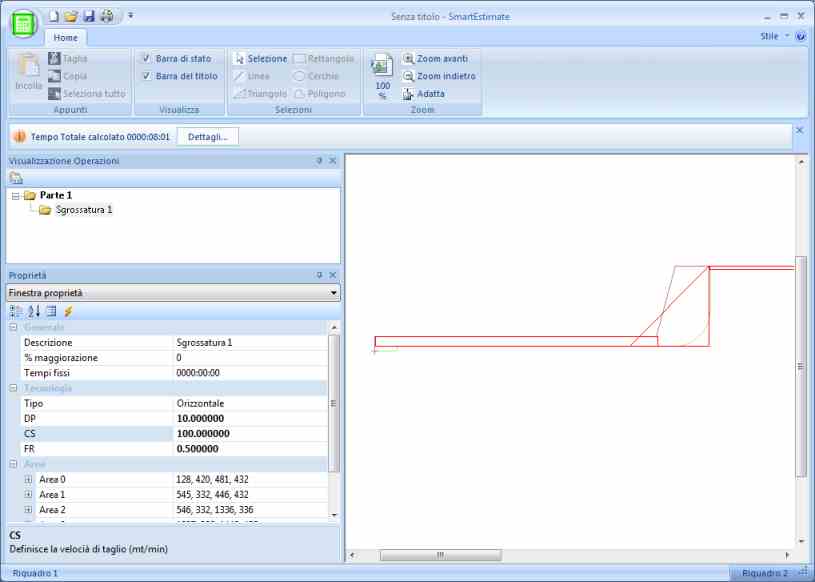 Simple and fast definition of the reference geometry

The management of the design of the part in graphic format (png, jpg, bmp ...) simplifies the way you work. You can acquire a video image of the piece in a displayed PDF or CAD file received from each customer or scan the paper drawing or even use a picture taken by phone or camera.
At this point you just need to set the scale of the drawing through the definition of a dimensional value, after which you can begin to determine the processing operations.
Intuitive and easy

definition of the operations

The use of graphic standard shapes to define the machining area allows a considerable gain in time, even in case of changes.
Estimate for anyone

The simplicity of the program allows the use even by unskilled personnel in the execution of calculations. The same cannot be said in case of manual estimates, where personnel is necessarily required to have skills in calculation.
Once the estimate has been completed, it could be useful to have a detail of operations and times. To this purpose we have included a printable report that will outline the processes in detail.
You can also request a custom format to be sent to the customer.